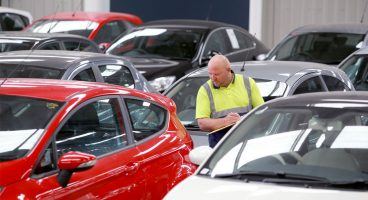 Remarketing specialist BCA has announced its intention to float on the London stock market, aiming to raise at least £200 million.
If successful, it would value the business at around £1.2 billion. It said in a statement that it would use the money raised to repay debt.
The remarketing company, which is owned by private equity company Clayton Dubilier and Rice, said it aims to be on the stock market by the end of next month.
The deal is being brokered by JP Morgan and UBS who are acting as joint global co-ordinators, joint sponsors and joint bookrunners and Rothchild is acting as the company's financial advisor.
"The IPO (initial public offering) of BCA is a natural development for our business and will provide us with the right ownership base to continue to deliver on our strategic ambitions," said Jon Olsen, chief executive of BCA.
"We have a proven business model that allows us to help buyers and vendors maximise value, liquidity and choice in the used vehicle market through their preferred channel, be it physical or digital," said Olsen.
BCA recently acquired video and imagery company Autos On Show and Tradeouts.com for undisclosed sums. The company also announced plans for a new auction house in the Midlands for 2015.
BCA is likely to use Autos On Show's video technology for its digital offerings.
The company will continue to support and expand its current customer base once under BCA's ownership.
Tradeouts.com is a dealer-to-dealer online application that helps to buy and sell used vehicles and it has 4500 dealers customers who advertise 7000 vehicles a day. As part of the BCA group, tradeouts.com will continue to work with its existing customer base
The new site will feature two auction halls and space for 600 vehicles inside, with both cars and light commercial vehicle sales programmes planned.
The development is expected to create approximately 200 new jobs and will offer a range of de-fleet, inspection, appraisal, preparation, refurbishment and logistic services.
There will also be 400 customer parking spaces, business meeting suites, a training centre and digital bidding facilities.
source: Business car