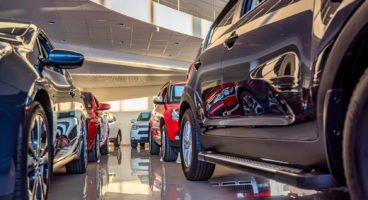 Data from Cox Automotive shows increased demand for ready-to-retail stock as dealers continue to focus on the strong used vehicle sector to balance lingering uncertainty in the new car market.
Having remained steady in April, the volume of vehicles sold through Manheim's physical and online lanes increased in May, up 7.3%, with a clear growth in vehicles in the £10-40k price brackets (up 25.6% year on year).
The average sold price for both ex-fleet and part exchange vehicles, remained on par with April (£6,649) and up 12.6% on May 2017 (£5,906).
Continuing the positivity, Dealer Auction, the trade-to-trade online auction platform, reported a 13% year on year increase in volume sold, while the average sale price increased £510 to £4,440.
NextGear Capital, Cox Automotive's wholesale stock funding business, recorded a similar result, with a 7% increase in average cost per unit compared to the same period in 2017, despite average age remaining steady.  Average holding days, however, increased to 57 from 55 in April.
Cox Automotive's Philip Nothard, said: "Despite tough market conditions and an overall fall in conversions across the auction market in general, our wholesale market has been performing well and mid-market vehicles in the £10-40k price bracket are performing particularly strongly.
"Continuing the vigilance seen last month, dealers are still cautious in terms of condition, and have been more willing to wait to acquire quality vehicles in ready to retail condition, especially while volume coming through the lanes remains high. Their willingness to wait however, has resulted in many vendors selling for less than expected in order to shift stock."
In the retail sector, data from Motors.co.uk, Cox Automotive's car search platform, showed that the average sold price of vehicles increased by 3.7% from April to £13,373, and volumes of both diesel and petrol vehicles also increased, up 12.6% and 23.3% respectively.
In line with wholesale, mid-market vehicles performed well, while the volume of lower value vehicles in the £0-5k price bracket fell 9.5% year on year, which could be influenced by the continuation of manufacturer scrappage schemes.
Figures from Motors.co.uk also revealed a shift in stock strategies, with many dealers adjusting petrol and diesel volumes to counter potential shifts in demand. Diesel vehicles remain the most popular fuel type on forecourts, accounting for 50% of vehicles listed on Motors.co.uk (a 7% decrease year on year), while petrol makes up 48% of stock (up 6%).
The positivity in the used retail market comes as the Society of Motor Manufacturers and Traders (SMMT) revealed this week that new car sales are 'modestly' improving, up 3.4% in May, despite an overall year on year decline of 7%.
Nothard continued: "There are clear signs that dealers are safeguarding themselves against the continuing public negativity around diesel and the competitive economic environment. In addition to adjusting stock volumes to decrease reliance on diesels, we have also noticed many dealers are offering better price points on diesel vehicles to ignite demand."
He concludes: "Overall, the used market remains steady across retail and wholesale, and June will be an important month across the market as dealers vie for a good mid-year financial position."
"There will naturally be some pain points as the VED increases continue to cause concern and the impact of WLTP becomes clearer, however we expect to see a renewed vigour in the market as the emphasis falls on obtaining retailable vehicles which need little conditioning."