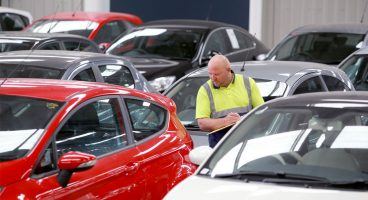 When it comes to searches on Auto Trader, the country's leading marketplace for new and used cars, German brands dominate. Collectively the top four brands accounted for 34.2% of searches on the site, according to figures for August 2014 – released today.
Of these, cars made by BMW and Audi headed the list, making up one in five of all site searches. Volkswagen and Mercedes completed the top four August sweep, with a further 15% of search volumes between them.
Most searched for – by brand in August
1 BMW 10.3%
2 Audi 9.1%
3 Volkswagen 7.7%
4 Mercedes Benz 7.1%
5 Ford 6.8%
6 Vauxhall 5.0%
7 Toyota 3.8%
8 Land Rover 3.4%
9 Honda 3.2%
10 Nissan 3.1%
"We shouldn't be surprised that German brands dominate," commented Nick King, Auto Trader Market Research Director. "There are good reasons why the BMW 3 Series consistently tops the chart, with VW's Golf and Audi's A4 not far behind. A combination of premium positioning, quality and regular model updates help keep these models at the front of mind for those looking for a new car – and for those who simply aspire to own a premium new or used car."
In August, seven out of ten cars in the top ten model list were German. Of the remaining three models two are made in Germany, Ford's Cologne plant producing right-hand drive Fiestas and the Ford Focus. That leaves the Vauxhall Astra, in ninth place with 2.4% of all searches, as the only British representative. The Astra is made at Ellesmere Port.
Most searched for – by model (new and used) in August
1 BMW 3 Series 5.5%
2 Volkswagen Golf 4.5%
3 Audi A4 3.2%
4 Ford Focus 3.2%
5 BMW 5 Series 3.1%
6 Audi A3 2.8%
7 Ford Fiesta 2.8%
8 Mercedes-Benz C-Class 2.7%
9 Vauxhall Astra 2.4%
10 Mercedes-Benz E-Class 2.2%