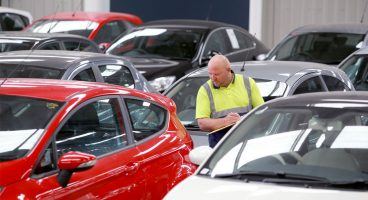 The current shortage of HGV drivers is "just the tip of the iceberg" when it comes to shortages of skilled workers affecting transport and logistics, delegates to a Vehicle Remarketing Association webinar heard.

Gavin White, CEO at Autotech Group told the audience that even if the issue of HGV drivers could be resolved, there remained issues with recruiting vehicle technicians, fork lift drivers, trained truck roadside tyre fitters and more.

"The issue is talked about as though truck drivers are an issue in isolation, but nothing could be further from the truth. There are problems right across all kinds of job roles in this area, largely driven by a lack of skills and new talent entering the industry as a whole. HGV is just the tip of the iceberg, really."

The event was the second in the VRA's series of Focus on…" webinars and was built around an extended panel discussion featuring a number of leading companies who are VRA members operating in this area of the remarketing sector.

Gary Xuereb, commercial director at DMN Logistics picked out rising costs as a particular issue: "There are cost increases that everyone knows about, such as fuel, but there are several others, too. Insurance is going up and the cost of the public transport used by our drivers is increasing. It's very much an issue although one that we are successfully managing."

Matt Atherton, head of operations at AT Moves, added that however, these increases were being managed well so far: "Transport and logistics is having to bear more costs and increase what it charges as a result but so far, customers have been quite accepting of this. They know about the pressures we are under and ultimately, simply need vehicles moving."

Looking forward, Mark Shearer, director at Movex, said that the sector could come under pressure in 2022 if the semiconductor shortage came to an end and there was increased capacity for new car transportation.

"It's difficult to see how things are going to develop and there is probably some masking of the degree to which capacity is under pressure. The sector is probably slightly smaller than before the pandemic and could be hit by sudden demand when the semiconductor situation starts to ease. There could potentially be a lot of quite sudden demand. There is definitely some risk in the market."

Philip Nothard, chair at the VRA, said that the session had been enlightening, showing how transport and logistics was coping with the issues prompted by Covid and Brexit, which included longer lead times, rising costs and labour shortages.

"The webinar illustrated just how companies in this sector are rising to cope with these quite large issues and thriving while they are doing so. It is a really dynamic part of the remarketing industry and worthy of much respect."

The VRA's next Focus on… webinar, covering commercial vehicles, takes place on 25th November. Further information about VRA events and joining the organisation can be obtained by emailing info@thevra.co.uk.