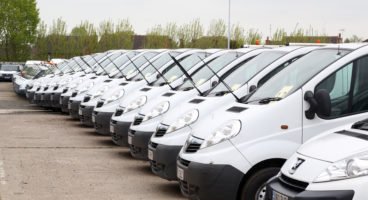 Figures released today by Manheim, the UK's number one commercial vehicle auction company, once again reflected a strong and growing LCV market.
Building on huge growth in April, the auction lanes recorded a 3% increase in the average selling price for May (£6,125), up 18% year on year, and a new Manheim record. The volume of LCVs offered at auction also increased, up 14% on the previous month, and 8% on 2017.
Manheim figures also show a reduction in the age and mileage profile of vehicles passing through the auction lanes, with average age decreasing to 58 months (down from 61 in April), while mileage fell from 77,000 to 75,000.
Vehicles continued to sell quickly, at an average of 15.7 days (down 7.1 on 2017), and first-time conversion rates remained very healthy, standing at 80.6% (a 7.3% increase on 2017).
Matthew Davock, Head of LCV at Manheim, said: "The May results once again prove the strength of the LCV marketplace. Despite an increase in volumes giving van dealers a wider choice of stock, vans today are making an average of £1,080 more than this period last year, with age and mileage being almost identical."
"Footfall to our auction lanes remained stable despite the two bank holiday weekends, with over 2,050 individual accounts purchasing vans across the month. We have also seen strong online attendance with a third (35%) of all bids won by online buyers, once again demonstrating our leading status with our ever-growing and loyal buyer base."
The figures also reveal that Ford continues to dominate the market, accounting for over 35% of all sales, while in the export market, buyer appetite for the Toyota Hilux (2012/2015) and Mercedes Benz Fridge Boxes (2014/2015) remains good.
Meanwhile, the HGV market remained healthy with 83% conversion rates throughout May and a record breaking average selling price of £14,803.
Davock continued: "Despite the record breaking figures we have seen over the past quarter, we do predict that the current super-heated van market will soften slightly as we enter the summer."
"As mid-year financials are reassessed, we expect many van dealers will safeguard themselves to reduce unforeseen expenditure, opting for higher quality vehicles with little requirement for conditioning. This demand for good, ready to retail stock could cause average sale prices to rise further, and it's possible that conversions will decrease slightly."
"We encourage vendors to pre-check vehicle condition and price in line with demand and market trends before they enter the auction lanes. This will make a huge difference in terms of speed to sale, buyer loyalty and overall asset performance."