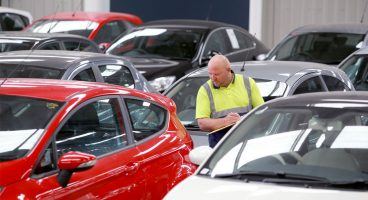 The Vehicle Remarketing Association's (VRA) 6th Annual Conference on 19th May promises to be the event of the year for those involved in the used vehicle arena, covering remarketing and retailing. With a diverse range of prominent speakers, addressing highly topical used vehicle issues, the event is again being held at Cranmore Park, Solihull. Sponsored by Manheim and supported by BCA, it will be hosted by TV broadcaster and motoring journalist, Ginny Buckley.
An impressive line-up of contributors on the day include:
Debapratim De (Deloitte)
Tim Hudson (Manheim Remarketing)
Mark Squires (NFDA)
Lynne Goulding (ARUP)
David Betteley (JLR Finance)
Nathan Coe (Auto Trader)
Richard Hill (RBS)
Peter De Roussett-Hall (Woburn Consulting)
Rupert Pontin (Glass's)
Philip Nothard (CAP HPI)
John Stocker (GEFCO)
Stuart Pearson (BCA)
John Davies (VRA)
Glenn Sturley (VRA)
Under the banner, 'An Industry You Can Bank On', delegates will hear the views of the experts in a series of short presentations, supported by panel discussions and Q&A hosted by Ginny Buckley. A number of leading service providers will also be showcasing their latest propositions and these include Manheim, BCA, Auto Trader, NAMA/NFDA, Epyx, Bruntingthorpe/PPG, Movex and GEFCO.
Topics being discussed on the day will include:
'The heat from global/regional economics and political landscape' – Pressures from world markets and also closer to home, plus the likely effects of June's EU referendum. How might the UK economy fair this year and into 2017 and what might this mean for the automotive sector?
'Challenges ahead for the UK used vehicle market' – Current dynamics of the home automotive environment and the prospect of a weakening used vehicle market, set against continuing strong new vehicles registrations.
'The influence of the consumer throughout the supply chain' – What's driving consumers in 2016 and how do motor retailers have to adapt to meet these shifts in expectations and behaviour? In turn, how can the remarketing sector support the motor retailers against these challenges?
'Back to the Future' – How world infrastructure changes, transport/mobility trends and general shifts in consumer behaviour will shape a very different environment in tomorrow's world.
Delegates will be encouraged to provide their input throughout the event, by downloading a 'conference app' to their smart phones. Using this 'app', they will be able to obtain information in the run-up to the event, submit feedback during the day, respond to specific issues being discussed and also ask open questions in the panel sessions.
VRA members qualify for a single complimentary ticket with additional ones costing £125 (ex VAT). Tickets for non-members cost £195 (ex VAT) each. Tickets include all refreshments, lunch, on-site parking, plus the conference app. Ticket information can be downloaded here: VRA Conference Invite 2016