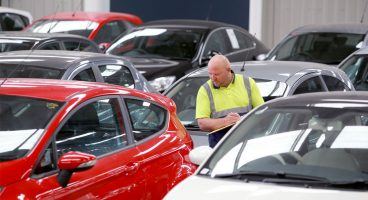 The Vehicle Remarketing Association (VRA) has appointed three new directors to its Board: Rupert Pontin (Glass's), Tim Hudson (Cox Automotive/Manheim) and Philip Nothard (CAP HPI).  They join seven other directors, including the VRA Chairman Glenn Sturley and Deputy Chairman Sam Watkins.
Glenn Sturley said "I'm delighted to welcome Rupert, Tim and Philip to the VRA Board and am sure that their varied and extensive experience will bring new perspectives to our general industry initiatives. I would particularly like to thank the outgoing directors whom they are replacing – John Davies (former VRA chairman), Rob Barr (Manheim) and Craig Purvey (BCA) who have had recent changes in roles. I would like to add a very special mention to Rob Barr who was a founding member of the VRA and who has contributed significantly to the Association since its formation."
Rupert Pontin, Director of Valuations, Glass's
In his role as Director of Valuations at Glass's, Europe's largest vehicle data provider, Rupert Pontin is responsible for the accuracy of its information and the editorial teams that generate this base data.  This feeds all of Glass's valuation, forecast and insight products. Rupert's extensive experience spans three decades and includes: vehicle valuations (new and used), valuation and forecast data, market research, profitable running of business units and small and medium size business start-up. Thought leadership and strategic direction have resulted in the resurgence of Glass's in the UK in recent years.
Tim Hudson, Managing Director Inventory Solutions, Cox Automotive UK
Tim Hudson is managing director of Inventory Solutions at Cox Automotive UK, which includes Manheim. Tim joined Manheim as UK managing director in March 2015 having been chief executive of Manheim's Asia Pacific operations for two years, where he led a successful business transformation programme to grow Manheim in a large and important international market. Prior to Manheim, Tim was managing director of Aston Barclay and also spent eight years with leading leasing firm LeasePlan International, where he held a number of senior positions, latterly that of managing director.
Philip Nothard, Black Book Editor – Retail & Consumer Specialist, cap hpi
With over 30 years' experience in the motor trade, Philip brings an informed eye to developing industry insight and market commentary. He joined CAP Automotive in 2010 as Black Book Editor having managed dealerships for independents, supermarkets and large PLC groups. A widely experienced and highly successful automotive specialist, he has a wealth of knowledge gained at the most senior levels across automotive. This experience, combined with the wealth of data available to Philip through cap hpi allows him to analyse and interpret data into accurate, contextual and meaningful insight.