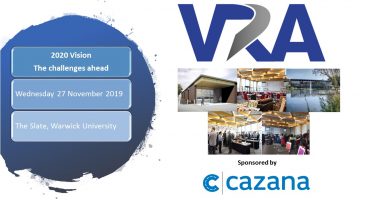 Exceeding your targets with retail data
Accredited to Rupert Pontin
Times are changing and not just in the automotive industry but within the UK economy and
across Europe. Conditions in the motor trade are more challenging than ever before with vehicle
prices volatile, WLTP causing issues and good stock hard to find. In order to combat this, dealers
across the country are turning to live retail data to help maximise their profits and spot the right
vehicles to buy.
It's no secret that UK politics are currently in a state of extreme turmoil and this, in turn, is
affecting the retail markets everywhere. For remarketers operating in these complicated times,
understanding the trader and by proxy, the retail consumer is essential. To get the best price
return for the vehicle on sale, it's essential to understand what the retail consumer will pay for it in
today's market and therefore what the trade buyer will be prepared to buy it for.
Just like the dealers buying at wholesale, Remarketers need to switch from using out-of-date
manually edited guide data. It's time to turn tradition on its head and use a new transparent, data
driven method to maximise the value of vehicles. This is especially important when it comes to
setting your reserve price at auction. By using realtime transparent retail data derived from
today's market you can make more margin on your assets when they are defleeted to the used
car market.
What is this new approach to reserve setting?
The most effective and quickest way to set a reserve is to look at what the car would retail for in
today's market. Savvy Remarketers are working back from what the customer will pay for a car in
the same way wholesale buyers and dealer groups do. By establishing what a vehicle can be
retailed for, the vendor setting the reserve will be able to decide what an appropriate trade
margin would be and set a reserve price accordingly.
Cazana's data harvesting process collates retail pricing information from across the whole market
instead of just using a snapshot of data from individual classified portals or dated guide books.
This ensures that customers have the very latest insight at their fingertips to maximise remarket
value.
Setting reserves using Cazana's retail tools
First things first, it's important to understand what the wholesale buyer is going to do with the
vehicle – what price are they going to sell the car or van for. This is why it is vital to know the
current retail price of the vehicle in question so working backwards the best possible reserve can
be set for the car in question.
By way of example, for a vehicle that has just been defleeted and the finance department has
targeted an asset value of £10,000, the remarketer has to find a way to achieve this target value.
Traditionally, the method has been to go and look at the guide books, which may have given the
asset a value of £10,300 and then cross reference with the original forecast value so the reserve
could well be set at £10,300.
Historically this may have been deemed as an acceptable way to get money back for the vehicle
in question, however, there is a new method where not only the cost of the asset can be realised
but also an opportunistic uplift to make extra margin on the asset.
Looking at the retail value of the vehicle in question and working back to a trade price may result
in a better outcome than previously expected. The current realisable retail price for that asset
may be £14,500 in today's market which means the wholesale buyer stands to make a gross
margin of £4,200 (or 29%!) from remarketers relying on the outdated guidebook. A fairer reserve
price might be £11,500 leaving the buyer with a gross profit of £3,000 or 20% and realising an
additional £1,200 for the remarketer.
With realtime retail driven pricing the reserve could have been enhanced by the vendor's
remarketing team and a higher return on investment achieved whilst also giving the wholesale
buyer the chance to make a fair retail margin on that car.
If you are curious and want to learn more and trial our data for yourself to see how it can help
you sell assets more profitably, please get in touch with us remarketing@cazana.com.