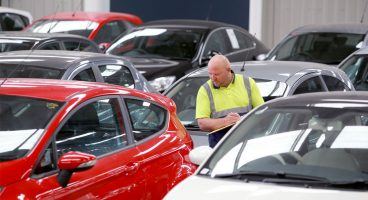 Britain's largest car auctioneer BCA has confirmed plans to list on the London Stock Exchange, in a move that would value the business at £800m.
Blackbushe-based BCA, which acquired webuyanycar.com last August, is looking to raise £200m by issuing a quarter of its equity.  The company said the proceeds would be used to pay down debt.
A company statement said: "The repayment of debt will assist BCA in achieving a more sustainable capital structure for the long term."
Following admission, the group is expected to have a net debt ratio of approximately three-times adjusted earnings.
Chief executive Jon Olsen said: "The IPO of BCA is a natural development for our business and will provide us with the right ownership base to continue to deliver on our strategic ambitions."
Non-executive chairman Fred Kindle added: "I have been impressed by the significant growth that BCA has delivered as a private company, but there is much more to come. The business will build on its strong market positions, its digital presence and its trusted relationships with professional buyers and vendors. I believe that BCA has a bright future and that its listing on the London Stock Exchange is the ideal foundation for the group to move to the next stage of its development.
A prospectus will be published on or around October 30, and the IPO will take place in November. JPMorgan Casenove and UBS are acting as joint coordinators, sponsors and bookrunners.
HSBC, Jefferies and Numis are also acting as joint bookrunners, Rothschild is acting as financial adviser and Linklaters is acting as legal adviser.
Private equity owner Clayton Dubilier & Rice, BCA management and "certain curent and former employees" are expected to sell off their shareholdings.
BCA, which operates across 13 countries in Europe and has recently launched in the Netherlands, has grown revenues from £254.3m in 2011 to £442.4m in 2013. Adjusted EBITDA stood at £62.5m for the year, up from £49.4m three years previously.
The car marketplace is two-and-a-half times the size of its nearest competitor: more than 900,000 vehicles were sold through BCA last year, while more than 120,000 vehicles were bought.